The City of Mississauga was awarded its first Leadership in Energy and Environmental Design (LEED) Gold Status for Fire Station 119 located at 6375 Airport Road. The LEED Gold Status applies to both Fire Station 119 and Peel Regional Paramedic Satellite Station S11 as part of the Airport Road Emergency Services building.
"We've made it a priority to make our facilities environmentally friendly. Our commitment to being at the forefront of green and sustainable design is evident with this milestone and we hope to continue leading the way for other municipalities to follow," said Ward 5 Councillor, Carolyn Parrish. "The residents of Malton are particularly proud of being at the forefront of gold standard environmental innovation."
Officially opened in June 2016, the state-of-the-art facility consists of many sustainable design features, including:
a white reflective roof
stormwater management design
exterior and interior LED fixtures
high efficiency heating and cooling equipment
natural ventilation
low flow plumbing fixtures
"As the City of Mississauga's first certified LEED Gold building, Fire station 119 represents an important milestone in the City's commitment to building great and environmentally responsible buildings in our communities," said Raj Sheth, Director of Facilities and Property Management. "This award illustrates Mississauga's commitment to becoming a leader in green building initiatives and reinforces the City's strategic plan's green pillar."
Mississauga began pursuing LEED Gold certification for Fire Station 119 at the start of the design process. This is now the second City facility with LEED status. Garry W. Morden Fire Training Centre received a LEED Silver Status in 2014.
In September 2016, Fire Station 119 also won a Mississauga Urban Design Award – Award of Merit for Quality and Green Initiatives.
About LEED
LEED certification provides independent third-party verification that a building, home or community was designed and built using strategies aimed at achieving high performance in key areas of human and environmental health. Sustainable site development, water savings, energy efficiency, materials selection and indoor environmental quality are all aspects of LEED design.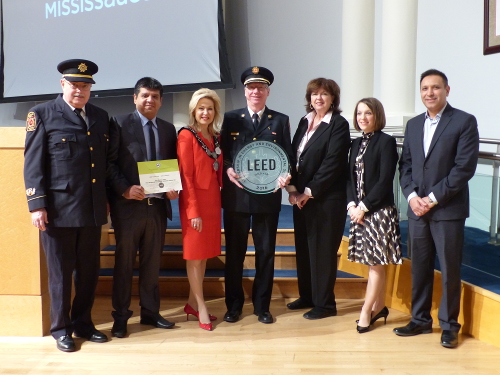 (L-R) Cliff Farion (ret.), Mississauga Fire and Emergency Services; Rajiv Chugh, Project Manager – FDA, Facilities and Property Management; Mayor Bonnie Crombie; Brian Walsh, Assistant Chief, Capital Assets, Mississauga Fire and Emergency Services; Ward 5 Councillor Carolyn Parrish; Anna Cascioli, Manager, Facilities Development and Accessibility, Facilities and Property Management; Raj Sheth, Director, Facilities and Property Management